☁ 13x Cloud Certified DevOps Engineer with 3.5+ years of professional experience.
I possess extensive hands-on experience in DevOps engineering, Amazon Web Services, and Linux server administration with valuable experience as a Full Stack Developer. I also have 2.5 years of unprofessional experience in which I have deployed 16+ freelancing and personal projects using several technologies stacks.
I started this website to jot down everything I learn in an organized way. My goal is to create a delightful corner of the web free of sponsored content, ads, affiliates, pop-ups, and the rest of the annoying noise from the Internet.

13x Cloud Certified | 4x Oracle | 4x Alibaba | 3x Microsoft Azure | 3x Udacity Scholar | 2x AWS | AviatrixACE, ICSI Certified | Linux | Automation Ninja | Securing World 🛡🌎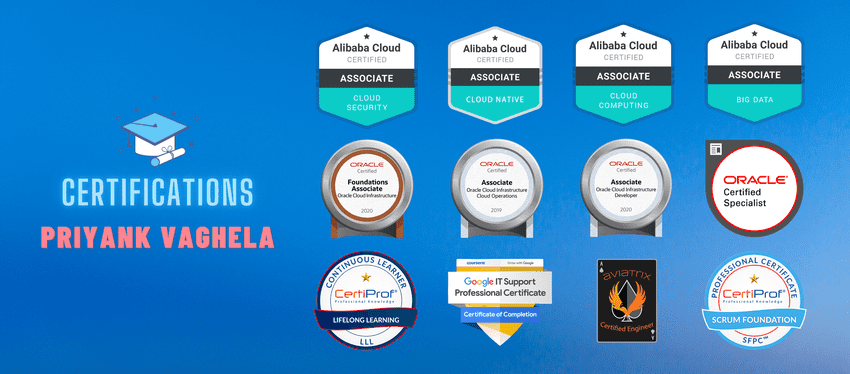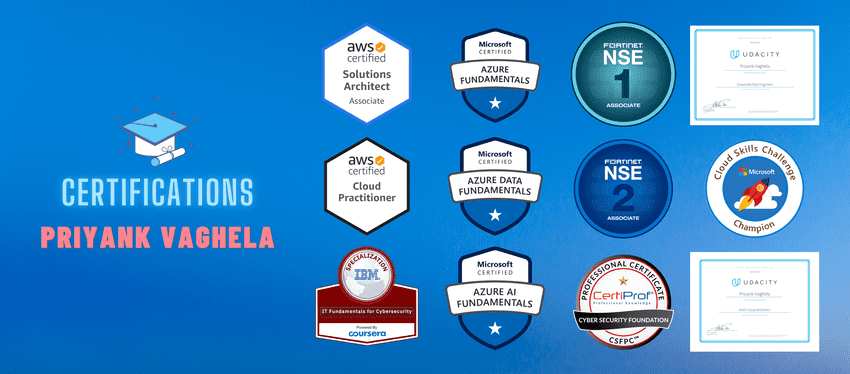 While actively contributing to the field as a speaker and writer, I'm also actively developing innovative products with an ardently focused design. I'm a highly passionate individual who's been into zeros and ones from the age of 10 and loves to work on Cloud & Automation.
I'm design-centric, collaborate effectively & always super excited to learn new things. Apart from being a relentless and curious learner, I'm also a nature-lover. Travelling and photography are few of my hobbies.
I also maintain a Quora Space for 20K+ cloud enthusiasts: ☁️ Everything AWS Cloud
Work Experience
1) DevOps Engineer - Astek Canada
Duration: June 2022 - Present
2) Site Reliability Engineer - Univeris, Canada
Duration: April 2021 - April 2022 | 1 year
Responsibilities
Automate in-house development tasks and create scripts to automate business workflows.
Manage monitoring, alerting and dashboards using New Relic for production environments.
Document processes to maintain software development lifecycle.
Troubleshoot issues, research, and implement solutions on production systems.
Create smoke testing scripts to automate testing for highly reliable environments.
Fix support escalation production issues.
3) DevOps Engineer - Peerbits Pvt Ltd, India
Duration: April 2019 - December 2020 | 1.9 years
Responsibilities
Demonstrated excellence in delivering 60+ enterprise projects and 100+ CI/CD pipelines with proven auto-scaling to 1 million users.
Led team to design, automate & create highly available, reliable & scalable environments on Amazon Web Services (AWS) & Microsoft Azure.
Have successfully implemented microservice architecture from multiple monolithic applications.
Have successfully implemented CI/CD code culture via automated pipelines.
Cost Optimization: Reduced monthly cost by using the latest industry standards and practices.
Have worked on configuration and deployment on ELK Stack, Apache Kafka, VerneMQ, and RabbitMQ.
Created a highly available MongoDB cluster with replication support.
Created documentation and logical architecture diagrams.
Have successfully configured and deployed in production-grade AWS services like EC2, Auto Scaling, S3, IAM, ELB, EBS, Lambda, Route53, VPC, DynamoDB, and CloudWatch.
Achievements
Got promoted twice in the same year for outstanding performance.
Got honoured and titled as 'Man of Automation.'
4) Full Stack Engineer - OpenXcell Pvt Ltd, India
Duration: Aug 2018 – Mar 2019 | 8 months
I have acquired valuable experience in development by implementing ReactJS, MySQL, HTML5/CSS3 stacks in 5+ enterprise projects.
5) Freelancing & Personal Projects
Duration: Jan 2016 - Aug 2018 | 2.5 years
While pursuing my Bachelor's in Information Technology, I did several freelancing projects and converted some ideas into reality.
I also learnt, implemented various technologies and have deployed 15+ projects.
Education
1) Cloud Computing for Big Data - Post-Graduation, Lambton College, Toronto, Canada
🏆 Academic Term Award: Dean's Honour List
Duration: 2020 - 2022 (3.68/4 GPA)
I pursued post-graduation to gain and expand valuable knowledge and expertise in the cloud computing field.
2) Bachelor of Engineering in Information Technology, LDRP Institute of Technology, India
Duration: 2015 - 2019 (7.3/10 CGPA, First Class)
I completed my Bachelors with good grades while working full-time gaining valuable professional experience.
Duration: 2020 - 2021
The 3-months degree with 3 real-world projects, 100+ lessons, and 100+ hours of intense learning helped me plan, design, and build highly available and secure cloud infrastructure.
Duration: 2019 - 2020
I passed all the projects on the 1st attempt.
After 5+ Projects, 200+ Lessons, 16h/weekend & around 220+ hours of intense learning with some struggle, I've successfully graduated from Udacity's Cloud DevOps Engineer Nanodegree!
Core Focus
DevOps engineering
Amazon Web Services (AWS)
Cloud Automation & Cloud Security
Infrastructure as a Code
CI/CD/CT
Docker and Kubernetes
Linux System Administration
Alerting, Monitoring & Logging
Specializations
A) DevOps
Cloud: Amazon Web Services (AWS), Microsoft Azure, Google Cloud Platform (GCP)
AWS: EC2, VPC, S3, Lambda, IAM, EBS, ELB, ECS, ECR, SNS, SES, SQS, RDS, ElastiCache, CloudFront, CloudFormation, Route53, CodePipeline, CodeBuild, CodeDeploy, CloudTrail, Secrets Manager, and X-Ray
Azure: Azure DevOps Pipeline, Virtual Machines, Container Instances, Azure Functions
Containerization: Kubernetes, Docker Products, Portainer
CI/CD/CT: GitHub Actions, Jenkins, GitLab, AWS CodePipeline, Bitbucket Pipelines
Databases: MySQL, MSSQL, MongoDB, Elasticsearch, RabbitMQ, Redis, Aerospike, MemSQL
Languages: Shell Scripting, Python (Beginner), Batch, PowerShell
IaC: AWS Cloudformation, Terraform, Ansible
Logging & Monitoring: AWS CloudWatch, ELK Stack, Netdata, Nagios, Datadog, New Relic, Grafana, Prometheus
OS: Debian, CentOS, Red Hat, Ubuntu
Concepts: Automation first, CI/CD/CT, Agile
Big Data: Apache Kafka, Zookeeper, Burrow
Misc: VerneMQ, Socket.io, Jira, Slack, Confluence, Git, pm2
B) Development
Frameworks/Libraries: ReactJS (Beginner), Gatsby.js, WordPress
Data: MQTT, JSON, XML, YAML
Testing: Apache JMeter, Sanity Scripts (Bash), Chrome DevTools, New Relic Synthetics
Key Skills
Hands-on experience with various AWS services like EC2, VPC, S3, IAM, ELB, Lambda, Route53, and many more
Production-grade level experience with Docker, Kubernetes, ECS & EKS
Experience with Infrastructure as Code (IaC) with CloudFormation & Terraform
Experience in Logging Infrastructure with ELK Stack & Datadog
Strong background in Linux System Administration
Experience of Logging Infrastructure stacks like EFK at scale and Datadog SAAS
Proficient at creating scripts to automate repeated tasks less
Certifications
Training & Courses
Diploma in Multilingual Computer Programming | Centre for Development of Advanced Computing | Cleared with A Grade
Entrepreneurship Training | Entrepreneurship Cell India
Ethical Hacking - Intermediate Level Training | TechDefence Pvt Ltd
Internet Security Awareness Training
Git Essential Training | LinkedIn
DevOps Essentials | LinkedIn
Projects
Portfolio
A few sites I designed.
Currently Using
Around the web
Newsletter
I send out a message whenever I write something new. Sign up for the newsletter to get notified.