Being a DevOps engineer, it is crucial to brush-up and grasps foundational skills that we've missed.
This course helps us to me learn troubleshooting, customer service, networking, operating systems, system administration, and security. The lessons contain video lectures, quizzes, and even hands-on labs.
What is IT Support?
Most companies are dependent on technology; technology fails, the system breaks, and dies. When such things happen, we required experts to fix them. IT support is about resolving problems, troubleshooting them immediately for excellent customer experience.
✅ Why should you do it?
Duration: Flexible
About six months to complete. (5 hours/week)
Platform: Coursera
School offering: Google
No previous experience required.
No four-year degree required
Grants and scholarships are available.
Starting a career in IT? Start with this certification.
If you are a Pro, then this course will brush-up your technical fundamentals.
💡 Skills you'll learn & validated:
Computer Networking
Customer Service
IT Infrastructure Services
IT Support
Operating Systems
Security
System Administration
Troubleshooting
💡 Other skills you'll learn
IPv4
Directory Service
Binary Code
Domain Name System (DNS)
Powershell
Network Model
Linux
Lightweight Directory Access Protocol (LDAP)
Linux File Systems
Command-Line Interface
✅ This Professional Certificate contains five courses:
Start your career now in IT: Google IT Support Professional Certificate
This certification has become the single most popular certificate on Coursera due to its content and excellent results that help learners land jobs in the high-paying IT field, which required no college degree.
Disclaimer: This certification is part of Grow with Google, an initiative by Google. The purpose of this initiative is to help and create economic opportunities for all. Learn more about it. The content in this certification is licensed under a Creative Commons Attribution 4.0 International License.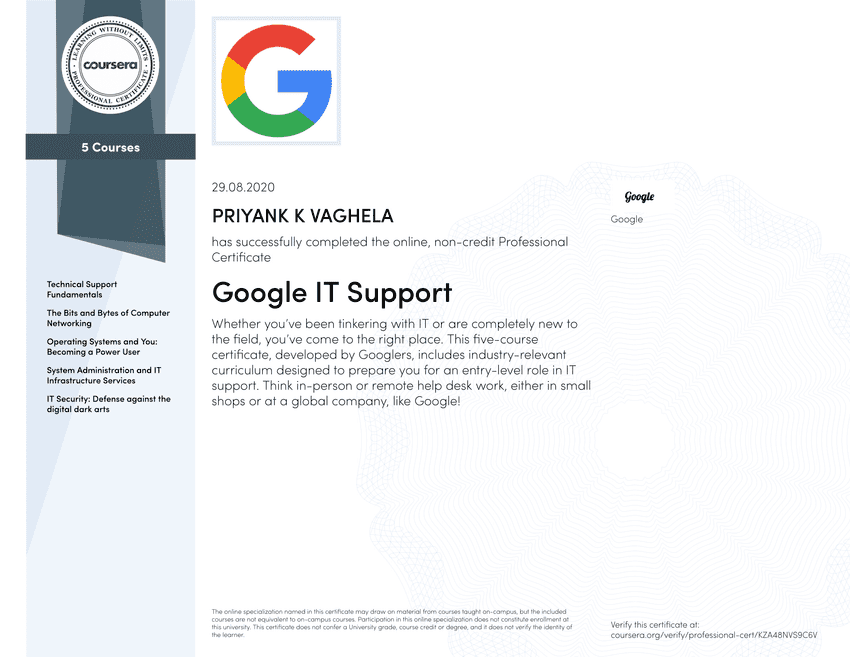 Keep exploring, stay hungry and keep learning! 😊
- Priyank Vaghela